Oklahoma Road Map
---
The scalable Oklahoma map on this page shows the state's major roads and highways as well as its counties and cities, including Oklahoma City, the state capital and most populous city.
Pony Bridge Road Across the South Canadian River, Route 66, Oklahoma
Oklahoma Map Navigation
To display the map in full-screen mode, click or touch the full screen button. To zoom in on the Oklahoma state road map, click or touch the plus (+) button; to zoom out, click or touch the minus (-) button. To scroll or pan the zoomed-in map, either (1) use the scroll bars or (2) simply swipe or drag the map in any direction. (The scrolling or panning method you use will depend on your device and browser capabilities.) At any time, you can display the entire Oklahoma road map in a new window or print this page, including the visible portion of the map.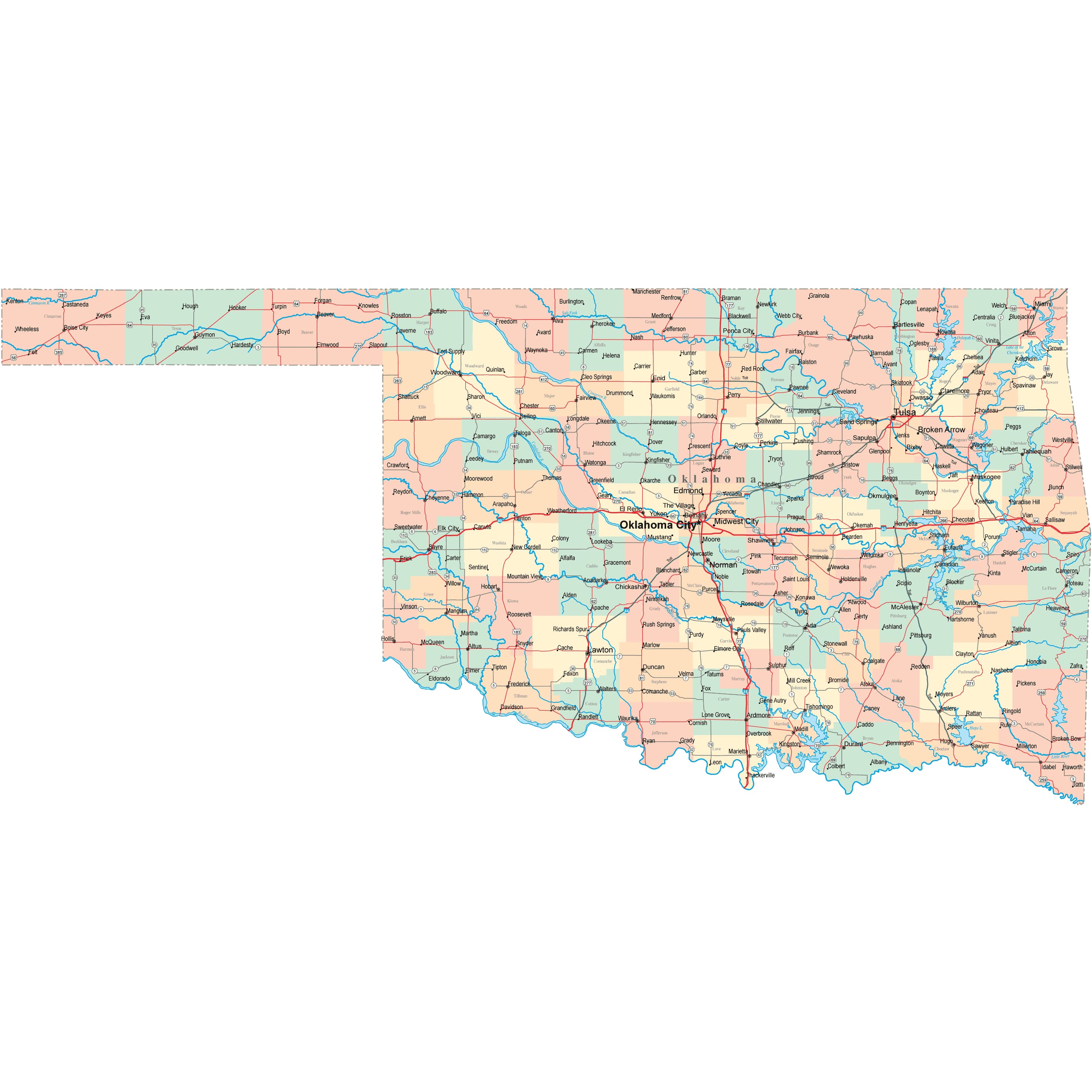 The following Map Legend and Scale of Miles apply to the road map on this page, at its largest displayed scale.
Oklahoma Map Legend
Oklahoma Map Scale Of Miles
Oklahoma Interstate Highways
Oklahoma's Interstate Highways connect its major cities and facilitate travel between Oklahoma and its neighboring states. I-35 traverses Oklahoma from north to south; I-40 crosses the state from east to west; and I-44 carries traffic from northeastern Oklahoma to the southwestern part of the state. Oklahoma's auxiliary Interstate Highways serve Oklahoma City and Tulsa. I-235 provides access to downtown Oklahoma City from I-35 and I-44, while I-240 connects I-40 and I-44 on the south side of the city. I-244 provides access to downtown Tulsa from I-44.
Oklahoma Scenic Routes
A 130-mile trip through the northern part of the state is a journey through Cherokee country. Driving north from Gore, travelers can visit a re-creation of the 1829 Cherokee courthouse and an early 1800s log cabin, as well as the Cherokee Heritage Center, which offers a dramatic re-creation of the Trail of Tears. Tenkiller State Park serves as a spot for fishing, camping, boating, and scuba diving, and visitors to Grand Lake O' the Cherokees can take a narrated cruise aboard paddle wheelers and visit a recreated 1800s pioneer town. More information about scenic roads in Oklahoma is available on this America's Byways: Oklahoma page.
Oklahoma Road Travel Resources
For more information about Oklahoma's roads and transportation infrastructure, visit the Oklahoma Department of Transportation website. For Oklahoma road traffic conditions, visit the Federal Highway Administration's Oklahoma Traffic Information page.
---
Copyright © 2005-2022 State-Maps.org. All rights reserved.
Oklahoma-Map.org is a State Maps reference source.

Oklahoma Road Map
Oklahoma Travel Map - OK Highway Map